---
Pool Decking Sunshine Coast
We are the number one Sunshine Coast outdoor entertainment area specialists, creating fresh and inspiring designs and spaces that add value to your home. Our team of experts and deck builders will turn your pool area into a place for everyone to enjoy and spend time together.
What Our Clients Are Saying...
Sunshine Coast Decks and Pools
The surrounding area of your pool is the crowning feature that will either make or break your outdoor pool space. It will either make your pool a relaxing and enjoyable place to spend time or a frustrating eyesore that you put up with when you decide to go for a swim. We are design and building experts that can make your pool area the piece-de-resistance of your outdoor space, ensuring that it's a place that you, your family, and friends will love to spend time. We offer free quotes and consults, so make sure you contact us today for all your outdoor entertaining needs.
Pool Fencing
We have you covered when it comes to safety, pool fencing, and certification. We know that pool decks and fences need to meet certain safety standards to pass certification and have the knowledge and industry experience to make sure our designs work with the required pool fence and safety regulations. We can design your pool deck to be cohesive in style with your pool fence, or create alternative walls or features high enough and safe enough to meet the pool fencing safety standards.
Pool Types
Our Sunshine Coast decks can be built for both inground swimming pools and above ground pools. Pool decks can be designed especially for either, and created to work with the style and vibe of your pre-existing backyard and home. Above ground pools can especially be enhanced by the addition of a pool deck that covers the outer shell of the pool and creates easy stair access to the water. Our team can design decking that meets safety standards and makes your outdoor spaces easier to use and nicer to enjoy.
Decking Options
A core component of building a deck is making sure the building materials match the needs of the space. There are two main decking material options we use when designing pool decks.
Timber decking is a popular option for deck building. A timber deck often looks more luxe, natural, and inviting when compared with pavers or concrete and does not absorb as much heat in the hot sun. Hardwood is usually the most popular option for timber Sunshine Coast decks as it is more durable and resilient compared to other timbers. Popular types of hardwood include spotted gum, Merbau, and Jarrah. Though hardwood is one of the best timber decking materials, it is surpassed in quality by the alternative Composite decking choice.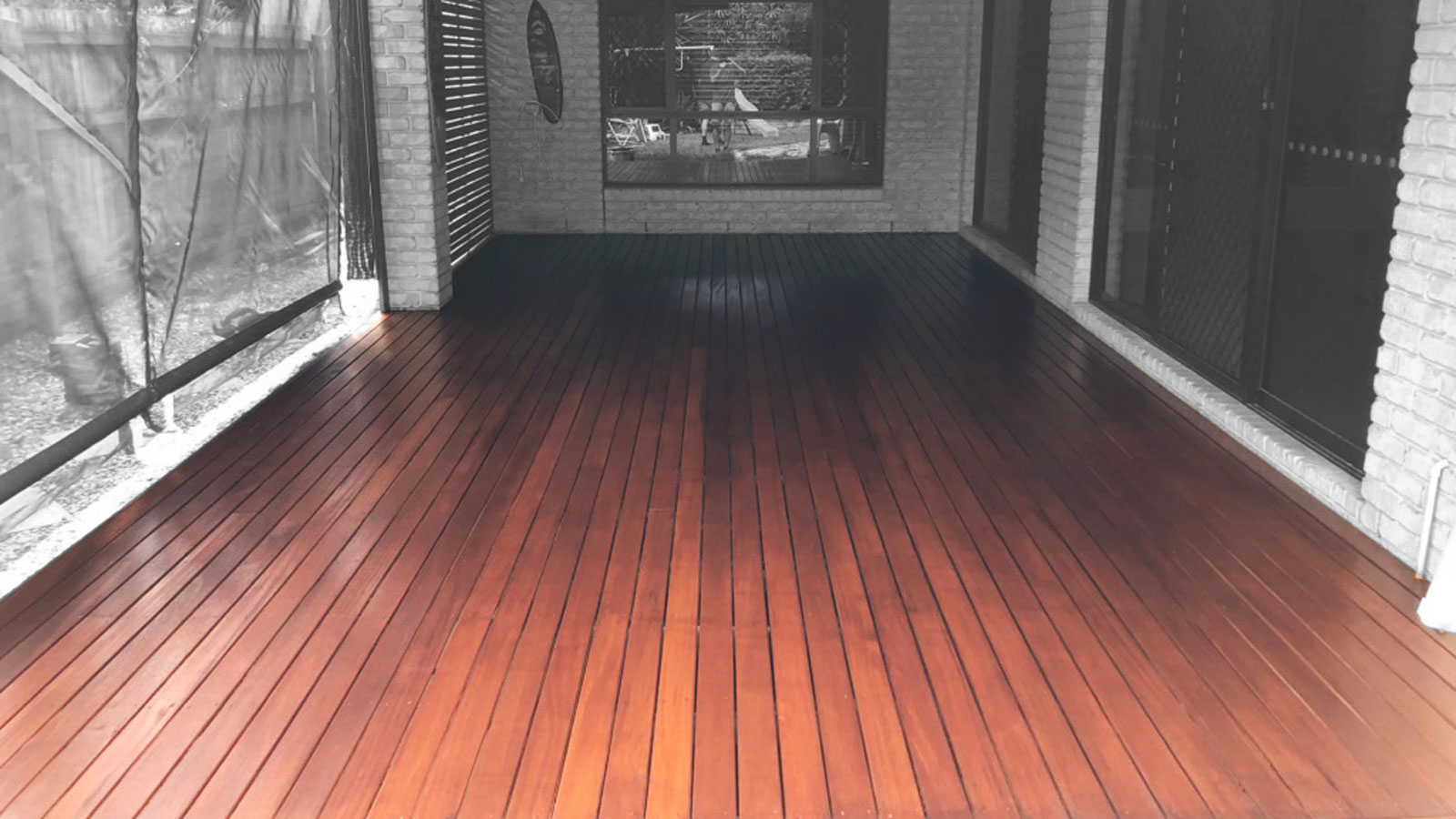 ---
---
Composite decking materials are our material of choice. Compared to hardwood, composite decks take the cake as they require far less maintenance and care and are far longer lasting. Composite decking is a man-made synthetic 'wood', made up of various materials like recycled plastic, wood fibers, and binding agents. Though it looks like hardwood or timber, it is much more resistant to moisture, rot, and warping which is critical for the longevity of pool decks. We love using composite materials and are big advocates for the quality and ease of Trex systems. An additional bonus of composite systems like Trex is that they have secret fixing systems, so there are no unsightly nail or screw holes in the top of the wood. This also means no splinters when the wood begins to wear.
A failing deck protection coating can look unsightly and will increase the chances of premature timber failure. These coatings need to be stripped right back using products or sanding the timber to return the surface back to bare timber. If dome head nails have been using during the construction, then sanding the deck is not an option. For bullet head nails, screws or clip systems the deck can be sanded using professional sanding equipment. Once the deck has been restored back to bare timber, a new coating system can then be applied, usually requiring an initial 3 coat system. Once the new coating has been completed the deck is back to full strength and should be reviewed every 3 months to assess its next 'top up' application.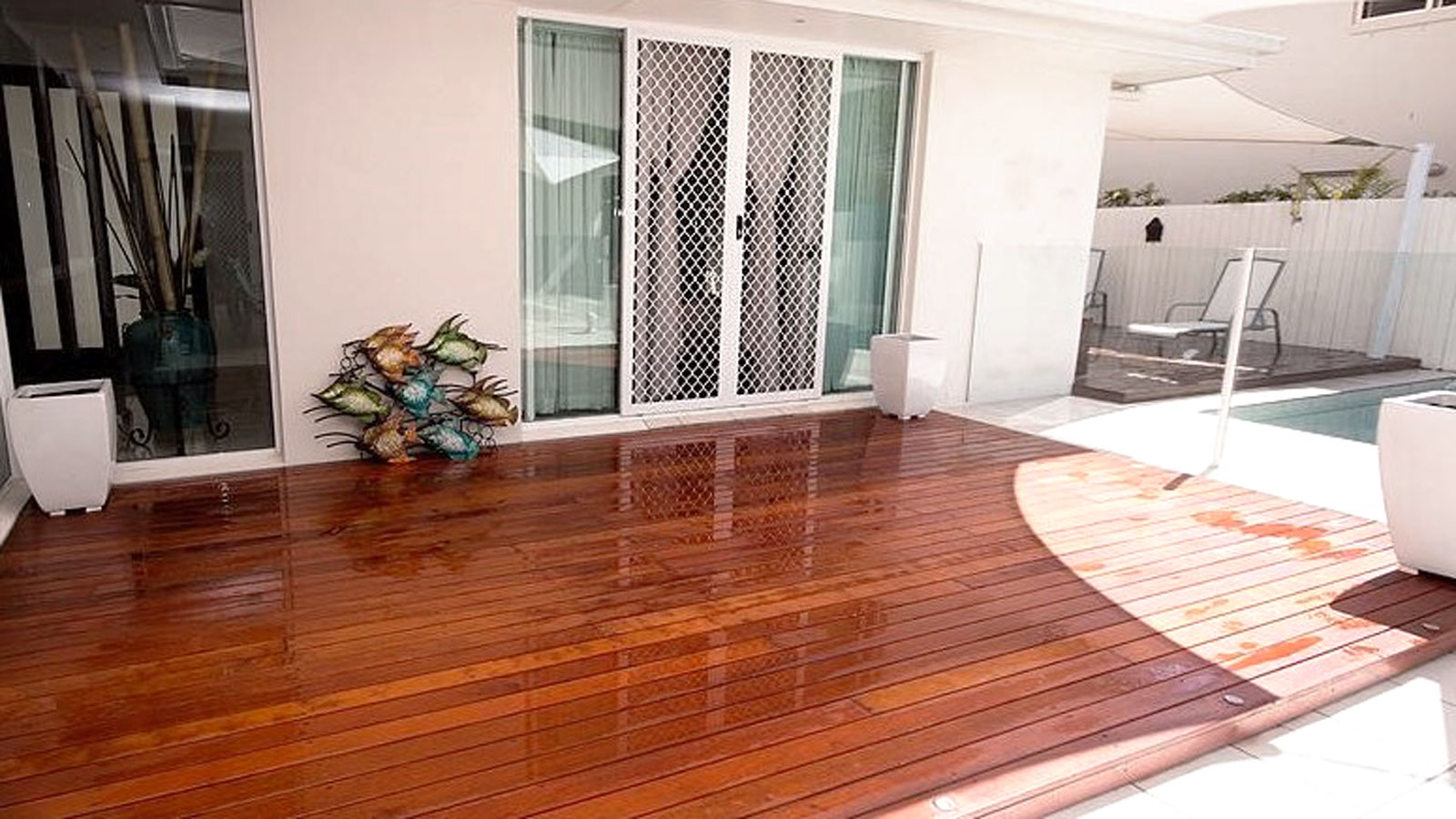 Sunshine Coast Deck Excellence
We are the leading building specialists for Sunshine Coast decks and outdoor entertainment areas. Our Sunshine Coast design and decking services are centered around our commitment to quality in all areas of our company. We ensure every client, need, project, and job is taken care of with high levels of communication, care, and our strong work ethic. Our workmen are qualified and trained with industry experience in building and decking.
Our Sunshine Coast team operates with an overseeing project manager and an onsite manager to make sure the building process runs smoothly, on time, and on budget. The Stilus crew is friendly and fun, while also bringing high levels of professional service. We work hard to do a great job and we make sure that every project brings our clients and home owners 100% satisfaction.
If you are considering building an outdoor entertaining zone or pool deck on the Sunshine Coast, make sure you contact us for your free quote.
Book a Free Project Assessment
Enter your details below and one of our team will assess your project details.
Review project feasibility