---
Timber Decking Sunshine Coast
The Sunshine Coast's number one timber decking builders
We are the Sunshine Coast's timber decking specialists and experts in building and designing state of the art outdoor areas. We can turn your outdoor space into a stunning addition to your home; a place to relax and unwind, enjoy time with the family, while also being an entertainer's delight. We work on QLD homes from Caloundra city to Noosa Heads and inland into the Sunshine Coast hinterland. If you are thinking of constructing a deck and looking for timber deck builders near me - contact us; the best outdoor decking construction company in the entire region.
What Our Clients Are Saying...
Timber decking for your Sunshine Coast home
The Sunshine Coast is renowned for its beautiful QLD weather, making poolside entertaining and outdoor parties inviting all year-'round. Timber decking design also gives an outdoor area a natural feel, relating well to the local coastal lifestyle, look and feel. This makes timber one of the most popular choices for decking Sunshine Coast wide.
Our decking solutions include everything from timber decking around swimming pools and fire pits, entrance ways, balconies, entertainment spaces, backyard and garden spaces, and more.
Composite or timber decking?
Choosing decking timber can be an important decision in the design of your deck. Decking timbers come in a range of types, colour and styles, each with a different purpose and use.
Composite decking products are a popular, low maintenance alternative for hardwood decking timbers and real wood decking boards. Though composite decking material looks entirely natural, it is actually made up of multiple products like fibre, recycled plastics, and binding agents. This makes it low maintenance, as the decking needs no sanding, staining, oiling, or painting like popular natural timber options like treated pine. It is highly durable, and one of our favourite products due to its longevity and secret fixing systems (meaning no unsightly screw or nail holes!).
To find out additional information about composite decking timber or to browse our recommended product ranges, click here to read more about our composite decking solutions. You'll also see some great project photos of our past deck construction examples using composite boards.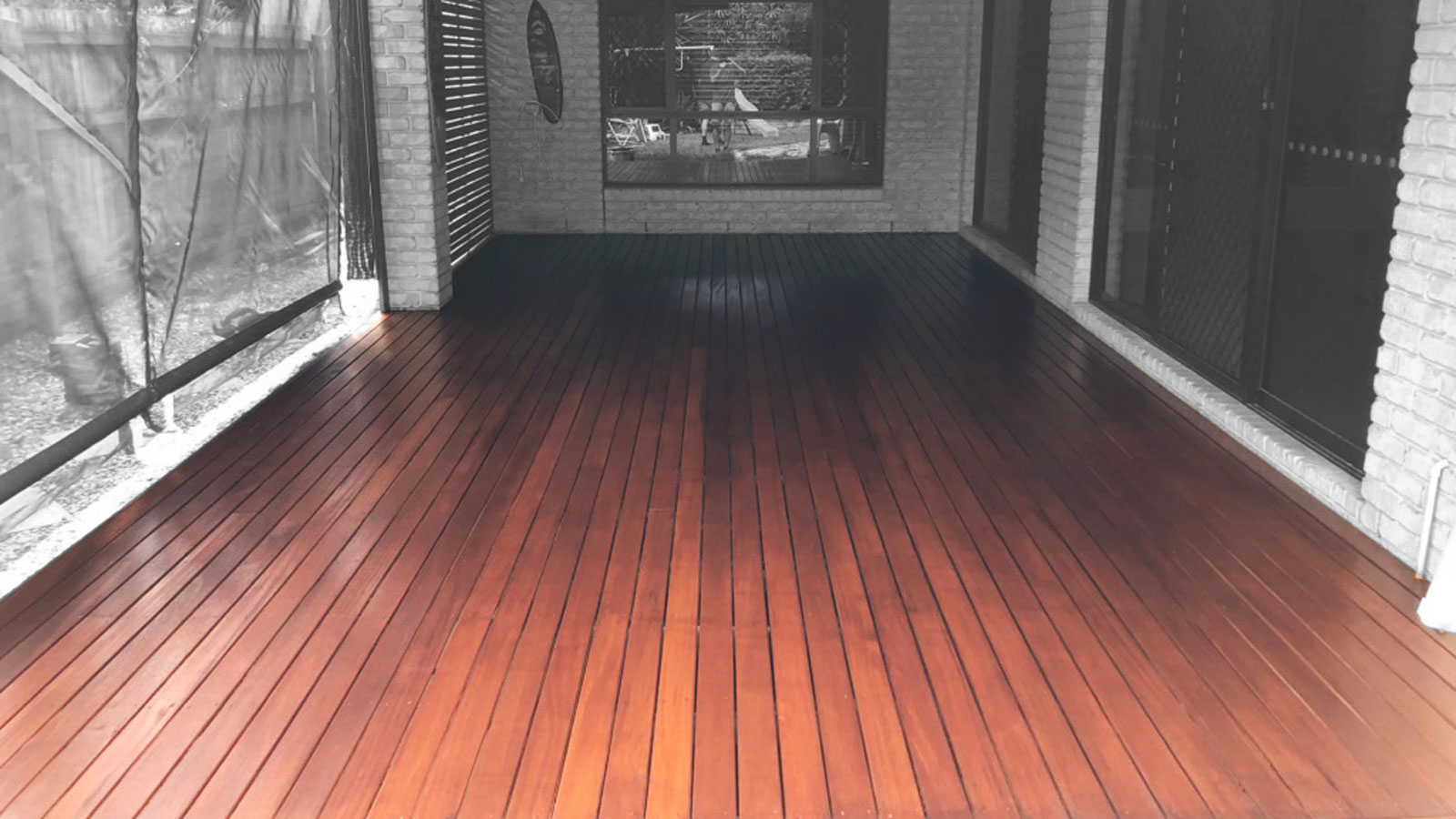 ---
---
Although we clearly have a love for composite timber decks, there is still a place for natural decking timbers and we have built many successful and beautiful projects using a range of hardwood timber and materials. Treated pine, Merbau, spotted gum, cypress pine and blackbutt are just a few of the natural timber options that have a range of colour options, creating a beautiful look and result in an outdoor area. Our timber building specialists are experts at using both natural or composite decking materials and will make your home stylishly exceptional either way.
A failing deck protection coating can look unsightly and will increase the chances of premature timber failure. These coatings need to be stripped right back using products or sanding the timber to return the surface back to bare timber. If dome head nails have been using during the construction, then sanding the deck is not an option. For bullet head nails, screws or clip systems the deck can be sanded using professional sanding equipment. Once the deck has been restored back to bare timber, a new coating system can then be applied, usually requiring an initial 3 coat system. Once the new coating has been completed the deck is back to full strength and should be reviewed every 3 months to assess its next 'top up' application.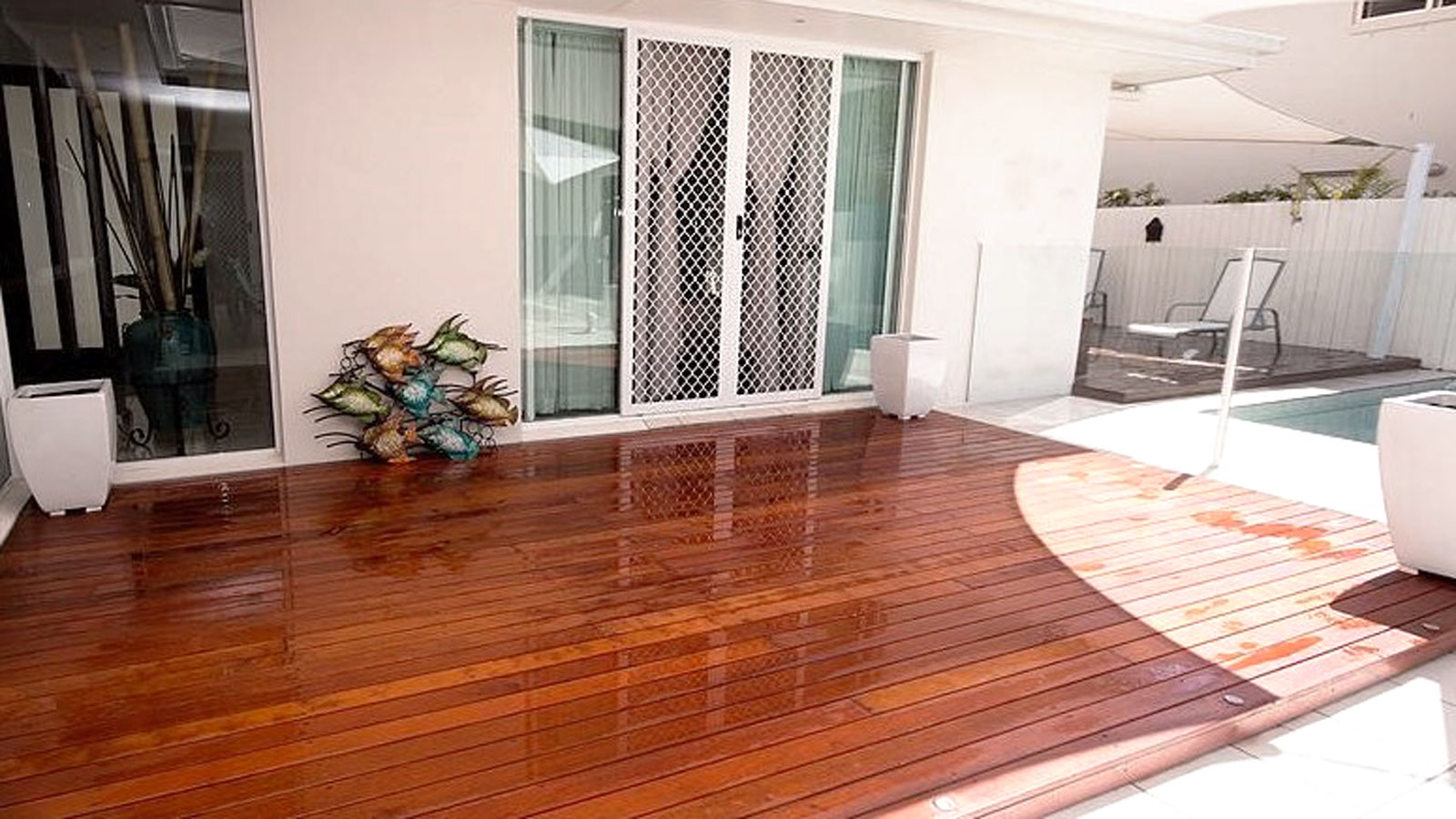 Adding value to your property
Our outdoor entertainment area designers are the best on the Coast. Alongside our expert builders, we will make your outdoor place the envy of all the neighbours. We pride ourselves on producing a high-end result for every client and place a strong value on treating your home the same as if it were one of our own. We also use local contractors and Australia based products as much as possible to ensure you get nothing but quality added to your property. If you want to know more about our process and what's involved in installing timber decking, click here to read more.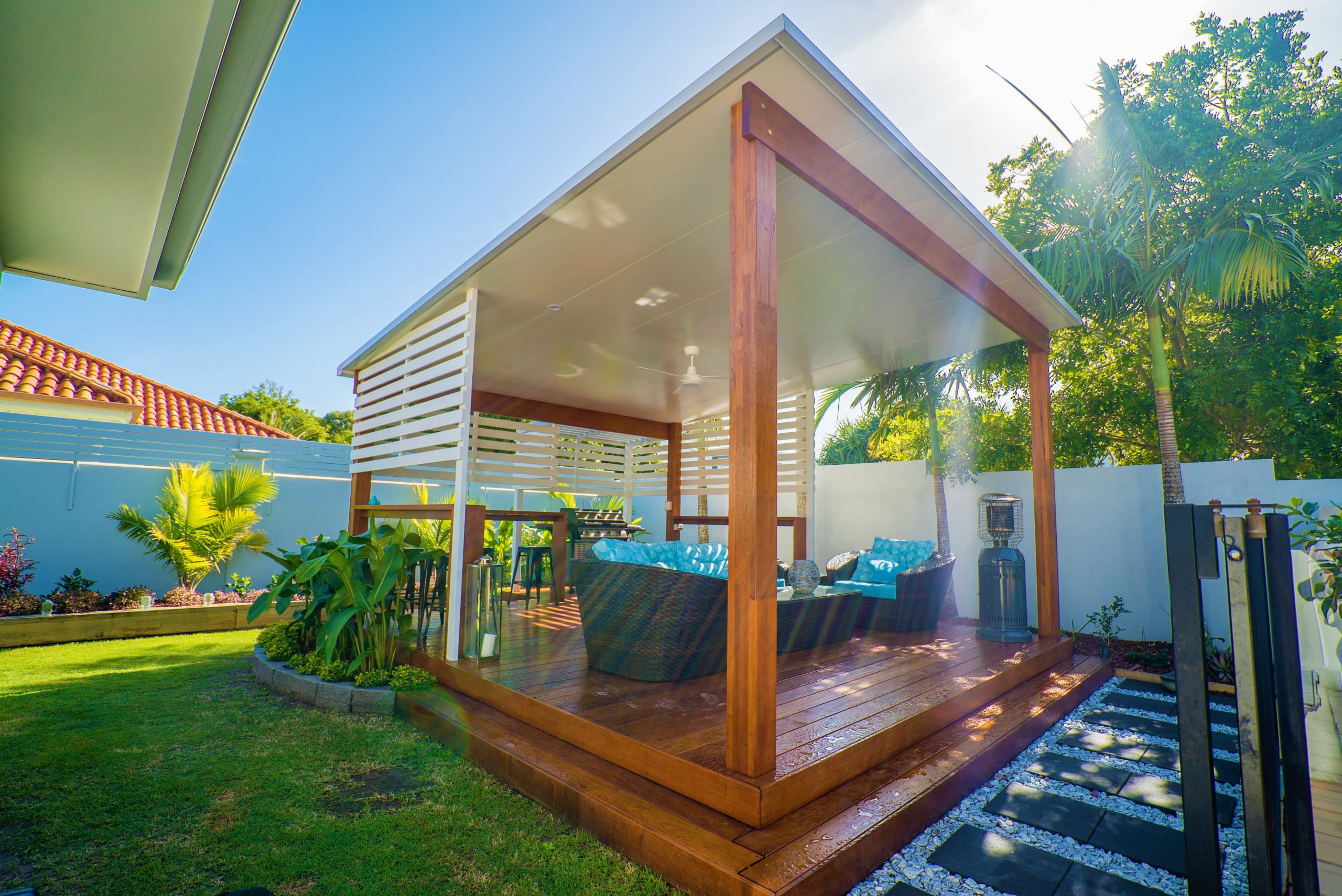 ---
If you are looking to enhance your property with a stunning timber deck, get in touch with us today. We are the best design and building team for outdoor spaces on the Sunshine Coast QLD, Australia. From Caloundra City to Noosa, we bring the best in style and beauty to homes across the entire region.
Book a Free Project Assessment
Enter your details below and one of our team will assess your project details.
Review project feasibility