---
Pool Surrounds Sunshine Coast
Whether it is a new pool surround or the renovation of an existing pool on the Sunshine Coast, our team can help you complete your pool and its surrounds.
Often pool builders focus solely on the construction and finishes within the pool itself, however in most cases this is only half the project. The pool surrounds need to be designed and constructed in a way that is functional and practical, both within the pool area and its connection to other entertainment spaces. It is also important that the finishes used within and around the pool match its surrounding areas to ensure the space flows seamlessly and can be completed within the required budget.
Our team works with the Sunshine Coast's best pool builders and renovators to ensure a high quality outcome is achieved for your pool surround area.
What Our Clients Are Saying...
There are a few styles of pools which are available on the market and some options are more suitable then others depending on the location and block it is to be installed on. Obtaining the best advice so you can make an informed decision is crucial. A few common pool options are:
Inground Concrete Pool
The most common style of pool construction is an ingound concrete pool. With no limit except your imagination, these can be built to any size or shape. Straight and narrow or curved and free flowing - these pools range from a standard 7x4 to huge resort style pools. Once the concrete shell has been dug and poured, it is important to select the right interior:
Pebblecrete Pool Interior
Pebblecrete interiors are widely used across the Sunshine Coast and have been around for over 25 years. These interiors are manually applied using a 2mm pebble mix which is sprayed and trowelled on by hand. There is a huge range of colours available and the ability to upgrade to glass beading for a superior finish.
Vinyl Pool Interior
A vinyl pool liner is an older, less common style of pool interior. It is a very cost effective solution, low maintenance and is well suited for pool renovations or pools with concrete shells that have minor cracks and movement.
Tile Pool Interior
A fully tiled pool interior is an expensive high class finish. It can only be achieved with new pools that have been designed and constructed to suit tile installation.
Ingound Fiberglass Pool
An ingound fiberglass pool is a great solution when time is short and a quick build is required. They are low maintenance and come in a huge range of sizes and shapes.
Above Ground Pool
Above ground pools are an older style of pool construction and are ideal for projects with a low budget and require minimal exaction.
Plunge Pool
Plunge pools on the Sunshine Coast are amazing! In fact, we have 2 suppliers on our doorstep offering great products that are suitable for projects that require a small pool or where excavation is not an option.
Shipping Container Pool
Shipping container pools are also right here on the Sunshine Coast! We love swimming! The team at Shipping Container Pools have two amazing options which are fantastic for sloping blocks, minimal excavation projects or a great feature for any project.
Swim Spa Pool
Swim spas have been around for many years and come in a huge range of styles and sizes. These premade pools can come with all the trimmings; speakers, headrests, LED lights and massage jets.
The size of pools and pool surrounds is dependent on the space available, quantity of people it is required for and the overall purpose of the project. Depending on the age of the swimmers, size of the family and style of the home, pools are a unique feature that can be customised to suit your needs.
A pool's price depends on its size, style, location and finishes. Typically, a budget of $30,000 - $150,000 will meet the needs of most residential pools. The first step is to finalise the design and style that suits your house, family and budget, followed by obtaining quotes to complete the works.
Pool Builders – Sunshine Coast
We proudly work alongside some of the Sunshine Coast's top pool builders, helping them to bring all the elements of the pool and surrounding areas together. Our top recommendations include Concept Pools, Pools By Design, Shipping Container Pools and Plunge Pools.
What is a Pool Renovation?
A pool in the residential and commercial building industry is usually referring to a purpose built structure designed to hold a body of water in which people can swim. They are most commonly custom built, however more recently they can be purchased from suppliers ready to fill. A swimming pool and pool surround area is a highly sought after addition to most Sunshine Coast homes proving a great space to cool off during the warmer months.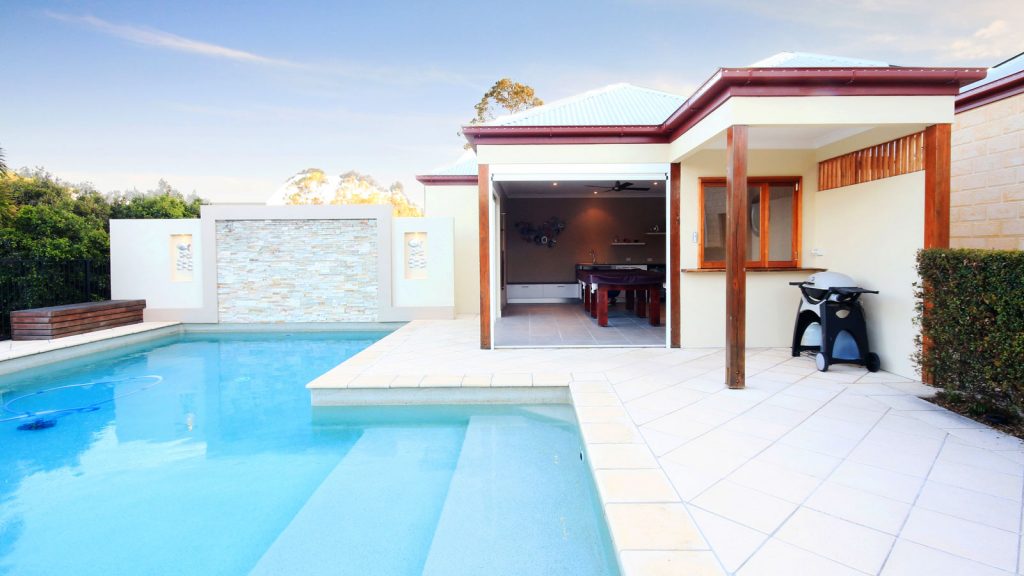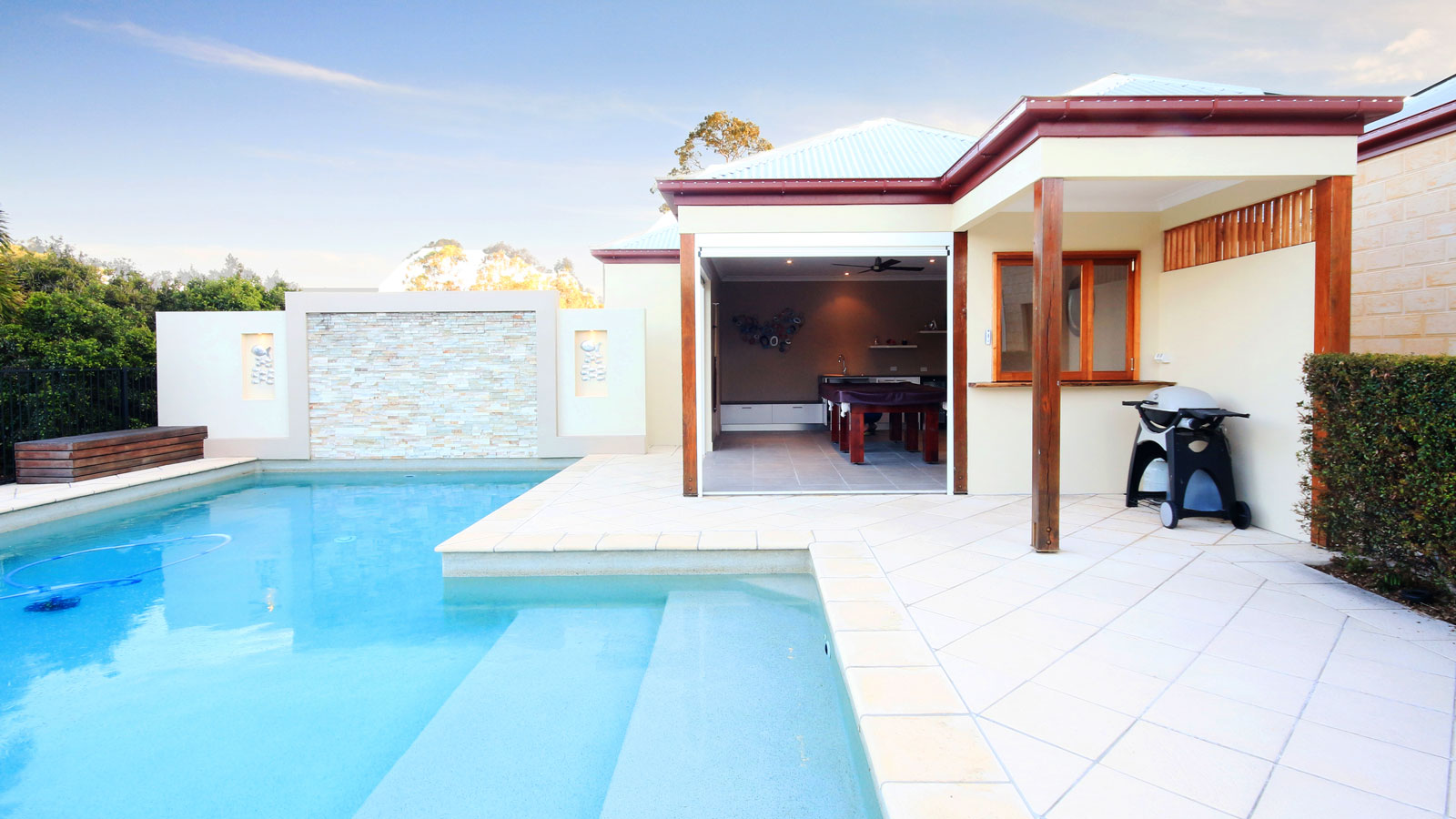 ---
---
A majority of properties already have a pool, but over time styles and trends change and often these outdoor spaces become outdated and in need of a facelift. Renovating a pool's interior is an ideal way to give your pool a new lease on life.
A majority of properties already have a pool within their property, over time styles and trends change and often these outdoor spaces become outdated and in need of refreshment. Renovating a pools interior and coping tiles is an ideal way to give your pool a new lease on life.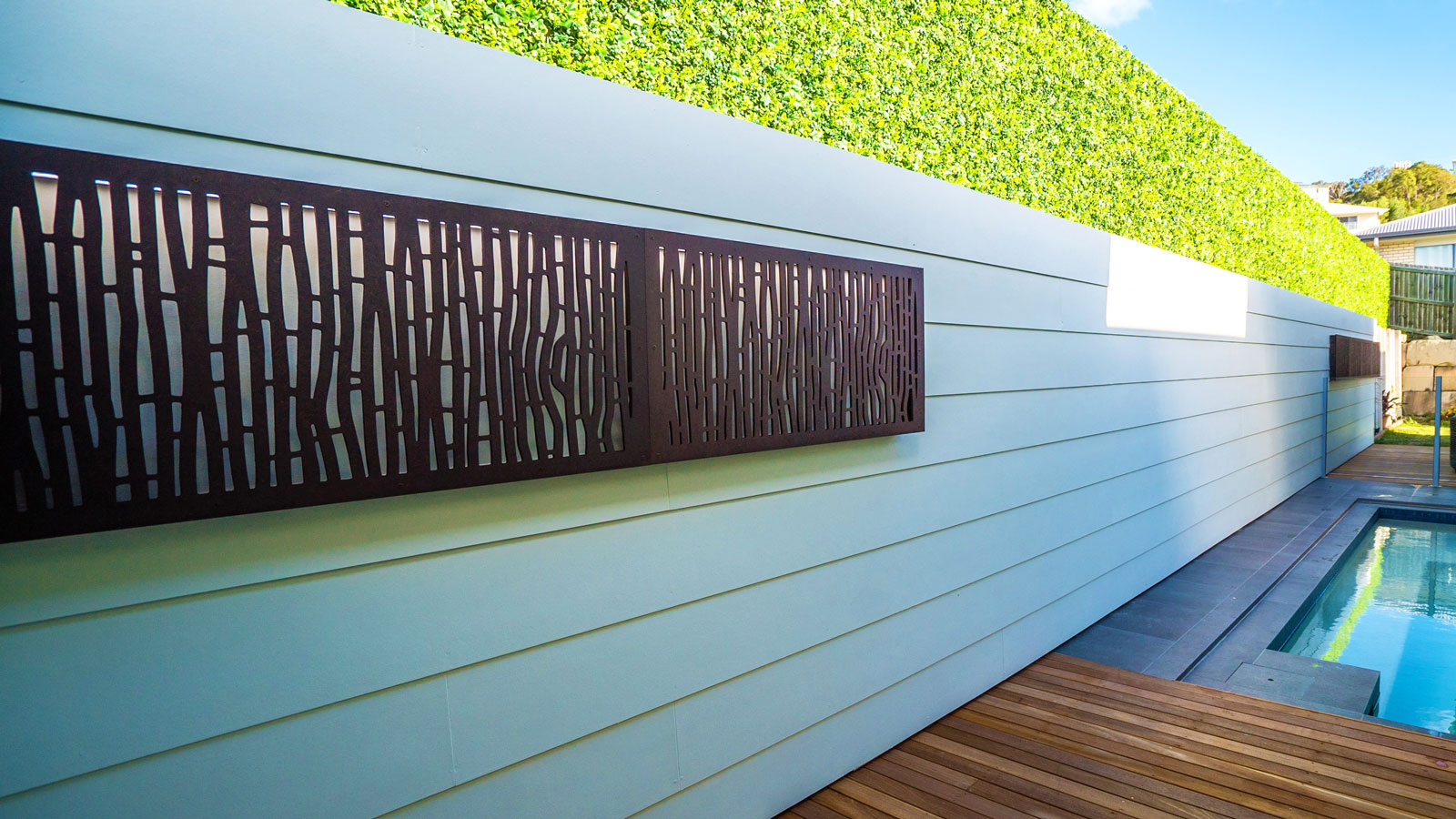 Building Your Pool Surrounds
As a building company who specialise in outdoor construction (particularly decks Sunshine Coast), a large majority of our projects involve pool surround areas. Ensuring that the surrounding areas are functional spaces suited to your family's lifestyle and block is important. Often pool surrounds consist of tiled floors, timber decks, composite decks, feature walls, patios and shade structures. We help our clients bring all these elements together with a 3D design service and are experts at bringing it from concept to completion.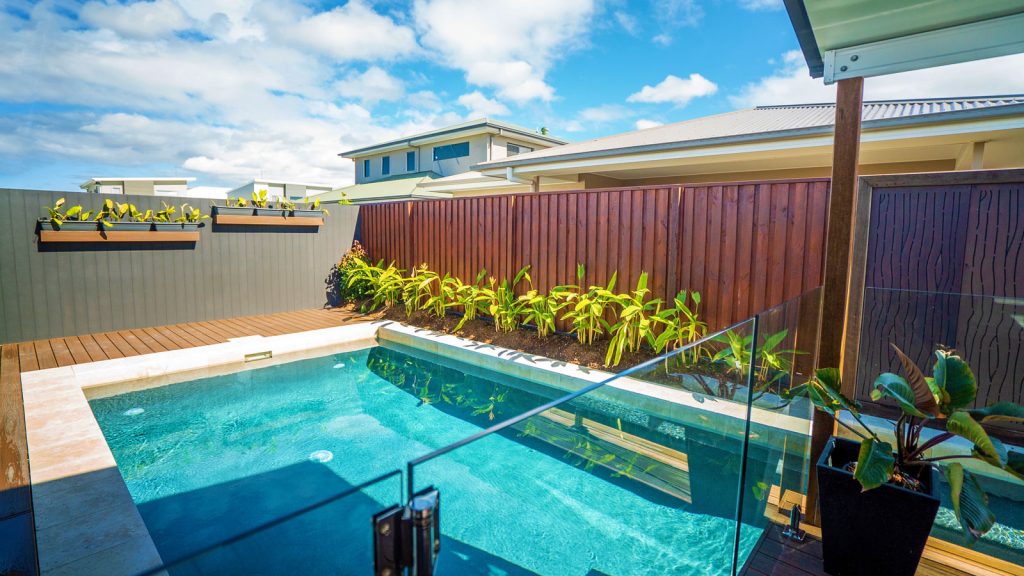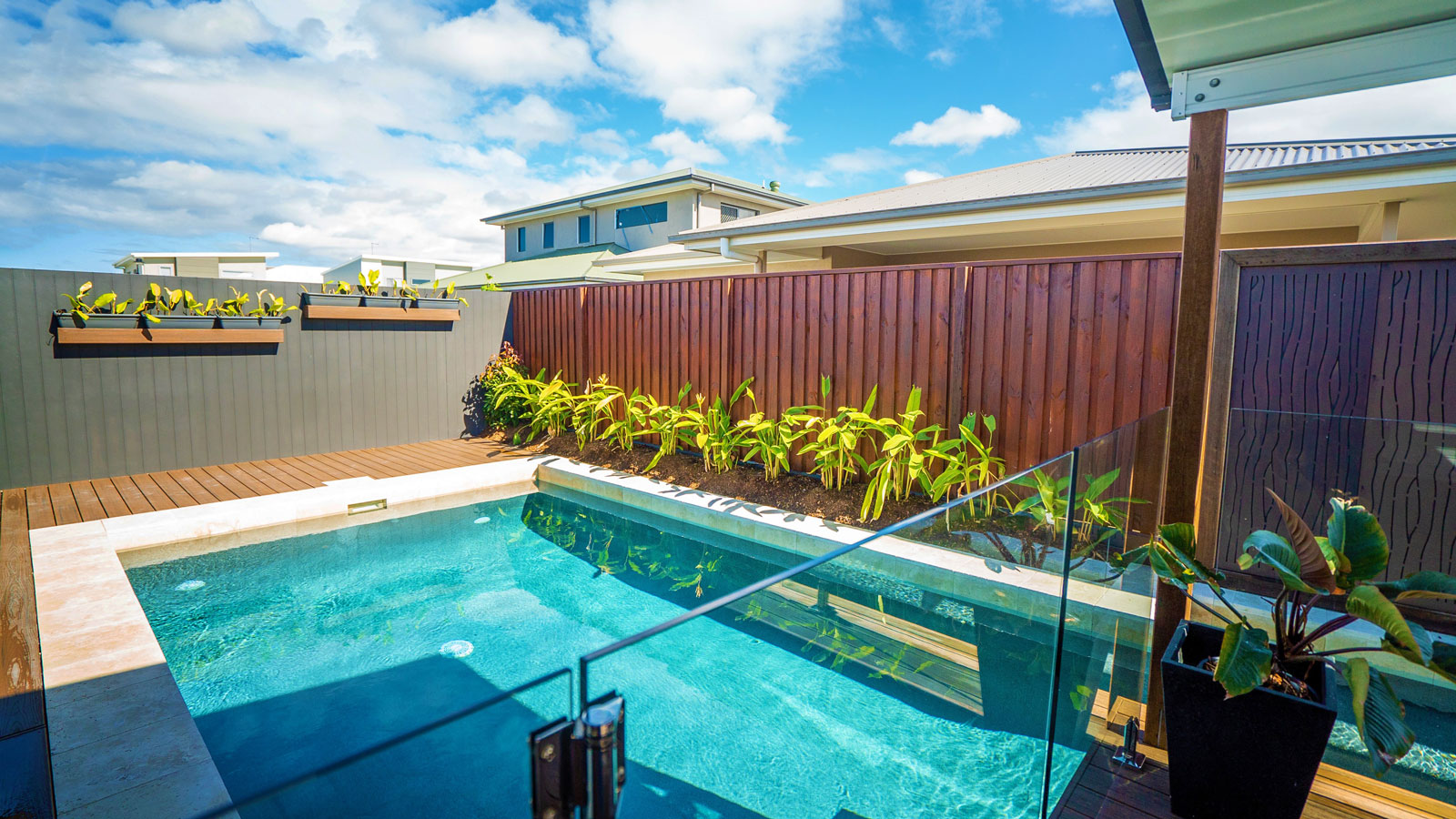 ---
Book a Free Project Assessment
Enter your details below and one of our team will assess your project details.
Review project feasibility