---
Composite Decking Sunshine Coast
Composite decking is an increasingly popular alternative to traditional timber decking with its incredible natural look, low maintenance and durability. It's ideal for any outdoor area, place or property.
At Stilus Design and Construction, we specialise in low-maintenance quality composite decking on the Sunshine Coast and have over 8 years of experience researching different products.
We have helped many Sunshine Coast clients make the right choice for their investment and aim to do the same for you. We specialise in custom outdoor entertainment areas, including patios, pergolas, pool surrounds, fences, outdoor seating spaces and more.
What is Composite Timber Decking?
Composite Decking is an alternative to traditional timber decking. The word composite suggests something that is made up of more than one thing. Therefore, the term refers to a material comprising multiple products like fibre, plastics and binding materials. Most deckings of this kind are made of recycled materials such as waste wood and recycled plastic, making them an environmentally friendly and sustainable decking solution.
Composite decking is an increasingly popular product in residential, commercial and industrial applications.
Read more on what composite decking is.
Benefits: Why composite decking?
If you are building a new deck or replacing an existing deck, then you need to consider the advantages of composite decking.
Low Maintenance - One of the biggest benefits of composite decking materials is their extremely low maintenance. There is no need to stain, sand or paint the boards – they are a finished product that can be used straight after the installation. It requires very little time and money to keep them looking sharp. In most cases, wash over with warm soapy water and rinse with a residential pressure cleaner once a year. Less time maintaining leaves more time for enjoying your deck.
Durability - Composite decking products are considered more hard-wearing than traditional decking products. It is much more stain, scratch and mould resistant than timber. It can handle harsh weather conditions and elements better and can often be installed much closer to natural ground level than timber due to its resistance to warping and moisture ingress.
Secret Fixing Systems - Most composite decking brands have secret fixing systems, generally a clip and screw system fastened into a groove along the length of the board. This allows for fasteners to be hidden and removes unsightly top fixings. Secret clip systems also eliminate the chance of unsightly popped nails or stripped screw heads.
Variety - There is a vast array of brands on the market, most of which have a different aesthetic appeal. From high gloss finishes to matt tones, there are wide boards, and there are narrow boards. Colours range from pale whites and greys to deep browns and even blacks.  We have a large selection of samples in our warehouse, available to show clients and help them to make the right selection for their project.
Types of composite decking we offer on the Sunshine Coast
Several low-maintenance decking boards are available on the market, which varies between brands and manufacturers.
Composite Decking or WPC - The most common decking boards are Composite Decking boards or WPC (wood and plastic composite). This is usually a blend of wood and plastic and binding agents.
Capped Composite Decking - The second type of decking board is Capped Composite Decking. It has a blended core and a protective capping layer to increase its strength and visual appearance.
PVC Decking - This low-maintenance decking is made entirely from plastic or PVC products.
Bamboo Decking - Similar to WPC, composite decks of this kind blend bamboo and binding agents to create bamboo decking.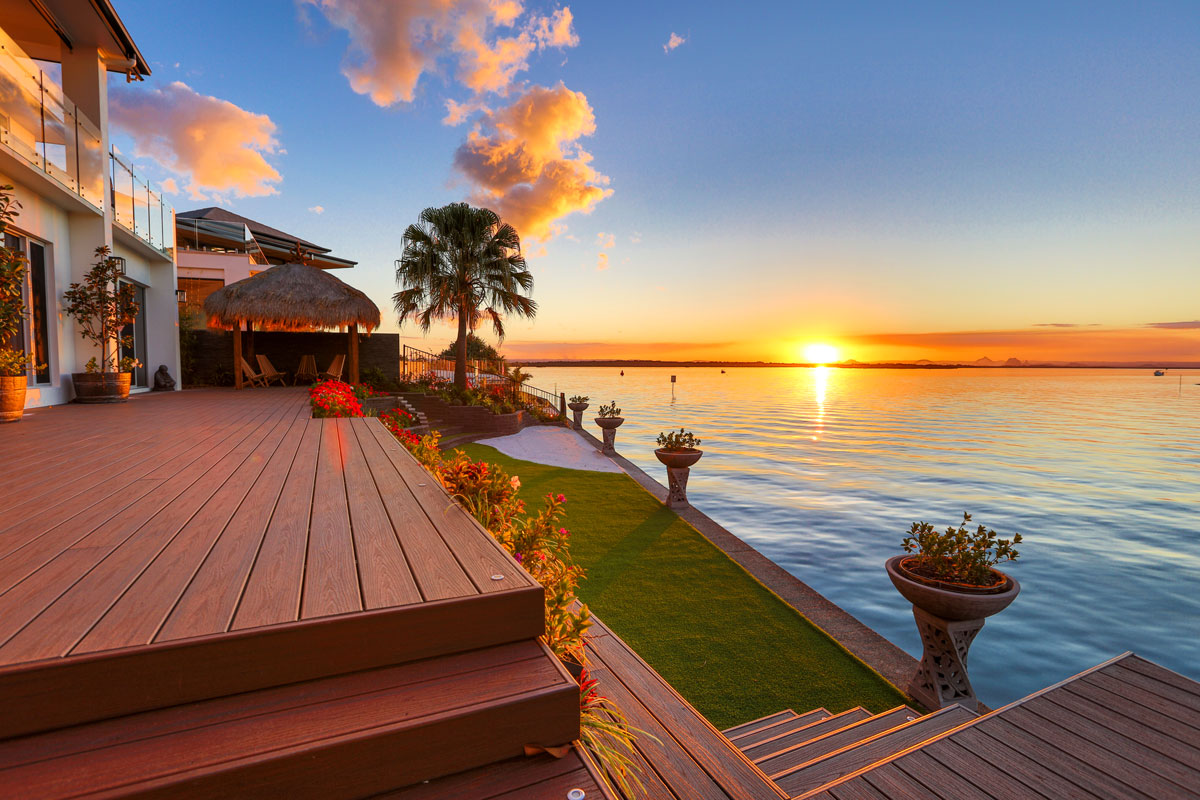 Size of composite decking?
The sizes of composite decking range between manufacturers. However, the most common sizes are between 90mm wide and 180mm wide. The thickness of the deck boards varies depending on the material compound and the strength required for adequate performance. The colours and finishes of composite decking also vary between manufacturers and brands. Many of them take on a signature feel for their range. If you are unsure what to choose for your outdoor space, don't hesitate to get in touch for advice or to ask us any questions.
Price of composite (maintenance free) decking?
Prices range from $9 l/m to $130 l/m. Cheap composite decking generally has a lower warranty and is often imported from China. The best brands with quality materials offer a huge 25-year warranty, value and superior finish. We supply and install outstanding composite decking brands on the Sunshine Coast manufactured in countries like the USA and Britain.
DO NOT COMPARE THE SHELF PRICE OF COMPOSITE DECKING TO THE SHELF PRICE OF TIMBER.
The price you are interested in is the finished product. The job is done, roll the deck chairs out, not the cost of the product. It would be best to consider that composite deck installation is often half that of natural timber. On top of that, once the decking has been laid, there is no need to apply any additional coats of decking oil. It's ready to use. The overall price becomes very competitive when these costs are compared against laying natural wood decking.
The advantage of composite decking is that you walk away with a 10-25 year product warranty, whereas with natural wooden decks, you will have ongoing maintenance.
Many brands and styles are available on the Australian market today, and it is essential to understand that each brand is different and their installation can differ significantly. Our range of low-maintenance decking board brands is below:
Brands of the best composite decking
Trex
Outdure
Duralife
Coen Composite Wood
Millboard
Tractio by Modeinex
Nexgen
Ultradeck
Ultim8
Modwood
Perma Timber
Ezy Wood
Eko Deck
Timber Tech
Composite decking vs wood?
With so many brands and styles of outdoor composite decks available in the market and on the Sunshine Coast, it is essential to know how they differ from timber.
Reading the individual manufacturer's guide will often give you the best knowledge about the materials used to produce the decking.
In most cases, the main difference between wood decking and composite decks are:
Lower Maintenance Costs and Time
Quicker to build
Improved fixing techniques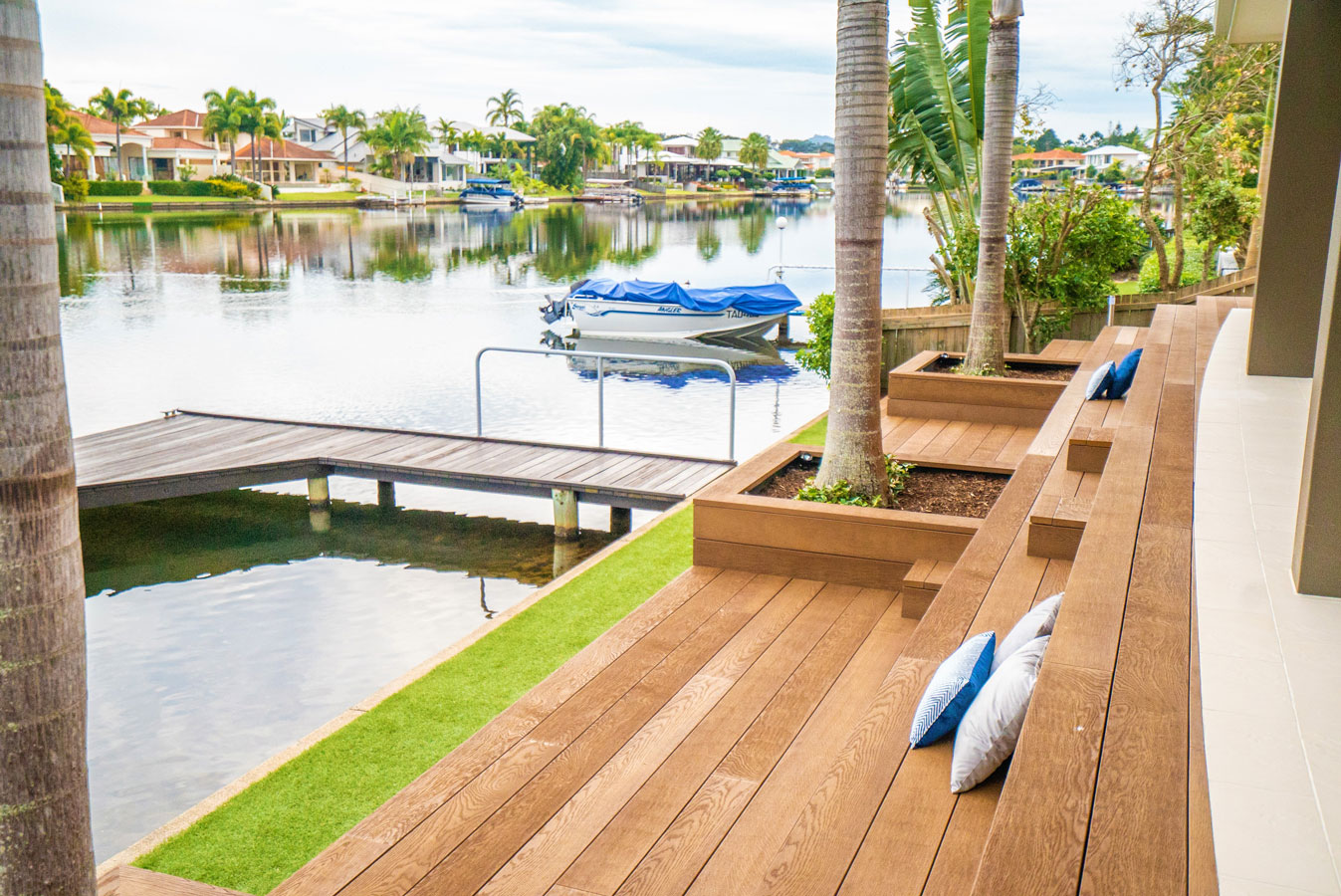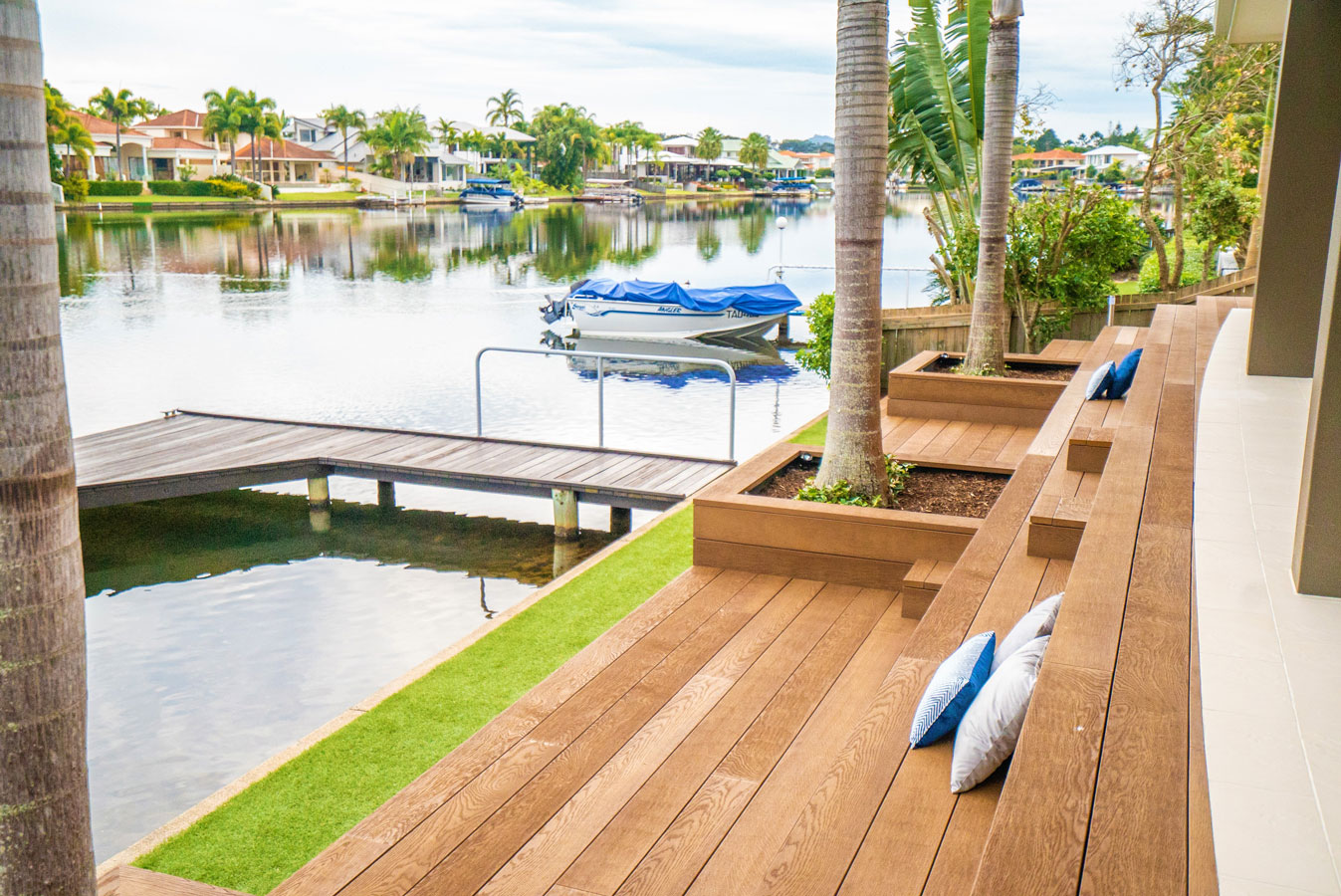 ---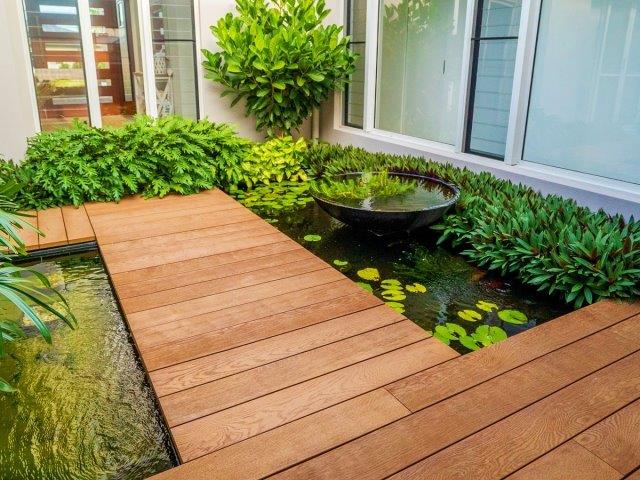 ---
Building Decks With Composite Decking
As a building company specialising in outdoor construction, we can supply and install composite decking for you. We also offer a consultation service if you wish to buy the decking and DIY the installation. DIY installation is not recommended, as products are usually only warranted if installed by a licenced professional.
Our decking services:
Book A Free onsite consultation
We offer all our clients a free onsite consultation to discuss their decking needs and answer any questions. We provide expert advice to ensure your decision produces the best result for your new projects. We carry a large range of samples to see, feel and touch so that you can be confident that you have made the right choice.
Call us today at 0430 011 933 or fill out the form below for a quote.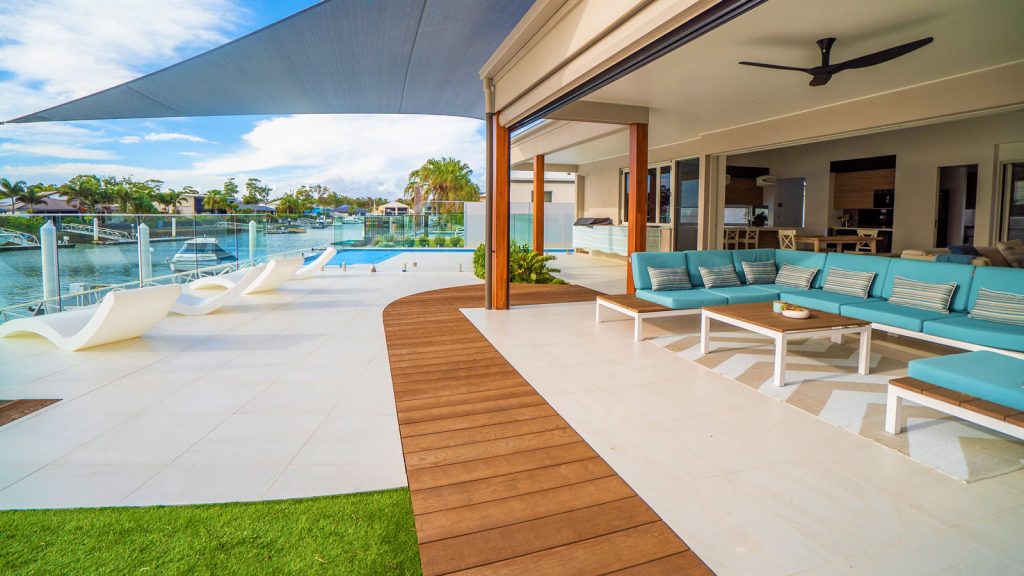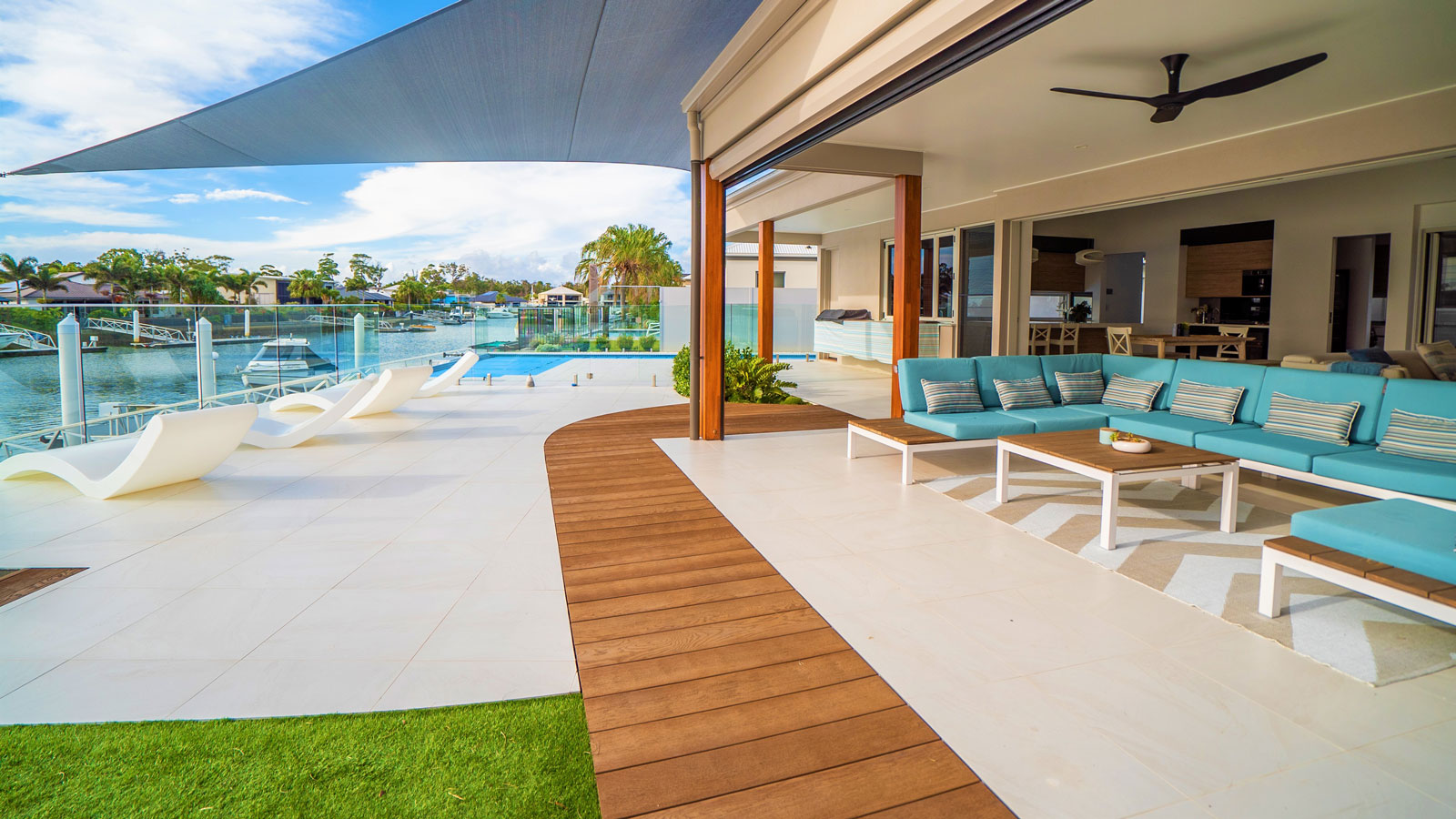 ---
Book a Free Project Assessment
Enter your details below and one of our team will assess your project details.
Review project feasibility
What Our Clients Are Saying...