Our free site inspection is a one-on-one consultation with our friendly and experienced builder. This is a valuable opportunity to discuss your project in depth, get expert advise and enable you to move forward confidently in the right direction. To get the most value out of this time together, here are a few quick tips:
1. Think about the answers to these questions.
What is the aim of the project?
Who will be using this area and how?
What are the key elements your project needs to include?

deck, patio, pool, landscaping, screens, outdoor kitchen, blinds, lights, heating, plumbing

What styles appeal to you?
What is you ideal time frame or start date for the project?
Do you have existing plans or and documents which will help during the build?
You may not have the answers to all these questions and that's okay.  Thinking through these main questions will help fast track our time together and ensure we have enough time to discuss any finer details or questions you might have. 
2. Create a vision board
A vision board is a collection of ideas, styles, designs that you like.  Whether your project is a completely new outdoor entertainment space or simply adding 1 element like a deck. Starting a collection of photos to highlight the style of your project is important to achieving a great outcome. Colours, products, styles and finishes should all be considered.
For tips on how to create a vision board, click on the link below:
HOW TO CREATE YOUR VISION BOARD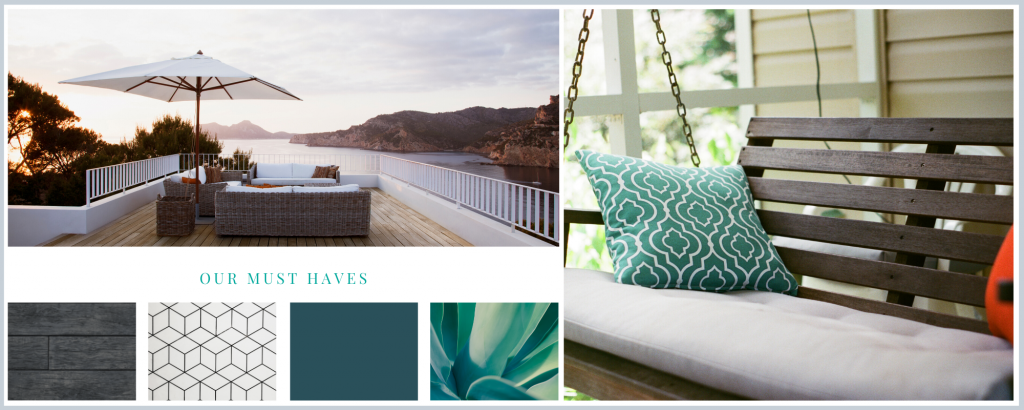 3. Determine your budget
Be clear and understand your budget range. For many client this is a hard question, our expectation is not that you accurately tell us the cost of the project, but more so a range in which you would like to see it completed. This helps our builder to give you ideas, suggestions and materials that will reflect your budget. We have all met dreamers, and we have all seen projects that miss the mark, our aim is to be realistic and discuss the design and budget from the start.
4. Equip us with an email  OR  'Book a Free Project Assessment' 
Knowledge is power. It is also the key to achieving the best result for your project. By  'BOOK A FREE SITE INSPECTION' or emailing the below information to us, we are able to assess your answers, and help you get the most value from your site inspection:
Answer Tip 1 questions or simply have them ready to discuss
Photos of the existing area as it stands (this is a huge help, so we aren't walking in blind)
Any existing plans or documents that will help with the build
Your sketches and ideas
Your vision board or links to any photos that appeal to you
 Our team are creative building experts and always look forward to meeting people to talk about designs and ideas for their project. By following the tips above you will get the most value out of your time with our builder and your project will have a clear vision and direction.

Outdoor Entertaining

We all love it! It's where food is shared, laughter is harvested and lasting memories are created.