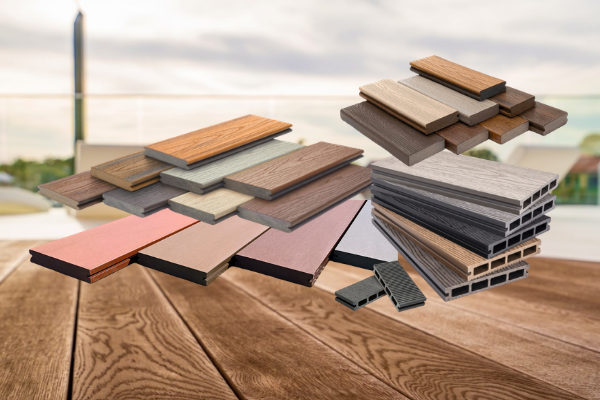 Are you new to the term composite decking?
Do you like the thought of low-maintenance decking?
Are you overwhelmed or confused by the products available?
Let's cut through the 'he said, she said' and break down the Composite Decking confusion.
---
What is Composite Decking?
Composite Decking is an alternative to traditional timber decking. In many cases, most brands aim to reflect the natural beauty of natural timber. However, composite decking can often take on its own identity due to the perfect finish and clean lines once laid. Composite decking is an increasingly popular product in residential, commercial and industrial applications.
Read more >> What is composite decking?
What is it made of?
The word composite suggests something that is made up of more than one thing.  Therefore, when it comes to composite decking refers to a material made up of multiple products like fibre, plastics and binding agents.  Most composite decking is made of waste wood and recycled plastics, making them an environmentally friendly and sustainable decking solution. Each brand is made of a different composition offering pros and cons between each of them. For more information, speak with our team or visit their websites directly.

Why is it so popular?
Low maintenance


One of the biggest benefits of composite decking materials is their extremely low maintenance. There is no need to stain, sand or paint composite decking boards – they are a finished product that can be used straight after the installation. It requires very little time and money to keep them looking sharp. In most cases, simply wash over with warm soapy water and rinse with a residential pressure cleaner once a year. Less time maintaining leaves more time for enjoying your deck.

Durability


Composite decking is considered more hard-wearing in comparison to other traditional decking products. It is much more stain, scratch and mould resistant than timber. Often it can be installed much closer to natural ground level than natural timber due to its resistance to warping and moisture ingress.

Variety


There is a vast array of brands on the market, most of which have a different aesthetic appeal. There are wide, narrow boards, from high gloss finishes to matt tones. Colours range from pale whites and greys to deep browns and even blacks.  We have a large selection of samples in our warehouse, available to show clients and help them to make the right selection for their project.
Fasteners
Most composite decking brands have secret fixing systems, which are generally a clip and screw system fastened into a groove along the length of the board. This allows for fasteners to be hidden and removes unsightly top fixings. Secret clip systems also eliminate the chance of unsightly popped nails or stripped screw heads.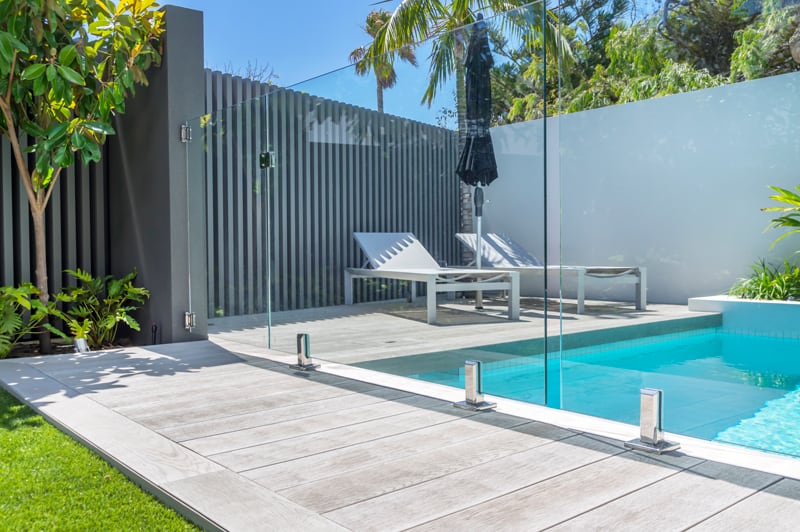 Image: Millboard Composite Decking
What are the different types of composite decking?
There are several different types of composite decking available on the market.  The main types that we offer on the Sunshine Coast are:
WPC Composite Decking
WPC stands for wood plastic composite and is usually a mix of recycled wood, plastic and binding agents.
Capped Composite Decking
This type has a blended composite core and a protective capping layer to increase its strength and visual appearance. This is the most common type of quality composite decking used.
PVC Decking
PVC composite decking is made completely free from hard or soft wood.
Bamboo Composite Decking
Like WPC, bamboo replaces the wood with a binding agent to create a bamboo decking option.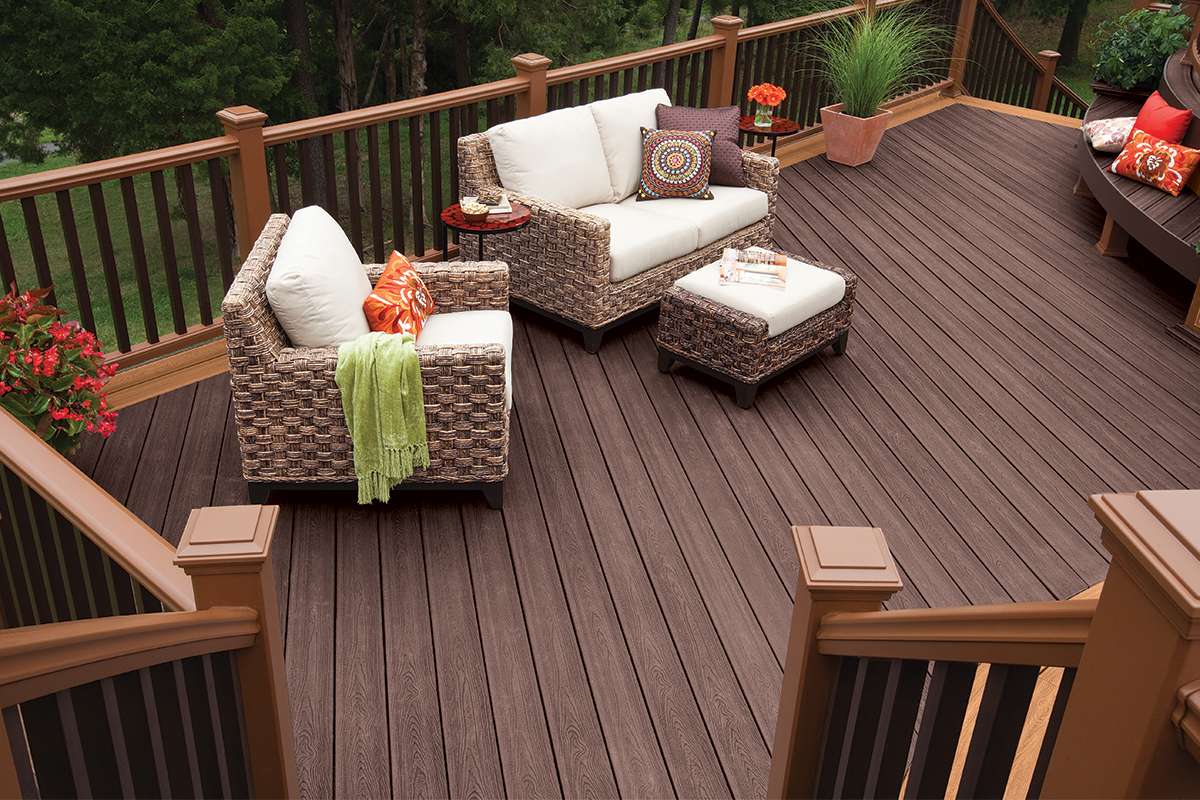 Image: Trex Composite Decking
What's the best brand to use?
No matter what each brand markets, there is no 'one board fits all' in the range of composite decking. Many variables need to be considered before making your selection. A few of these key questions are:
What size is the deck- length and width?
How high is the deck from ground level?
How far is the deck from the coastline?
What is the proximity to a pool area?
What colours are required, and what sheen level do you prefer?
What fixing system can be used, and what is the subframe made from?
What is the budget for the project, and what length of warranty are you looking for?
The best brand to use will depend on the individual project. An easy way to decide is to book a consultation with our team.
Here is a quick shout-out to some of our favourite brands that we love to work with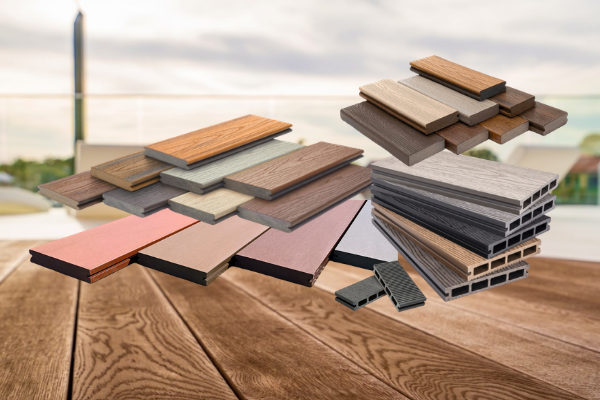 Trex    –    Millboard   –    Duralife   –    Outdure   –     NexGen Decking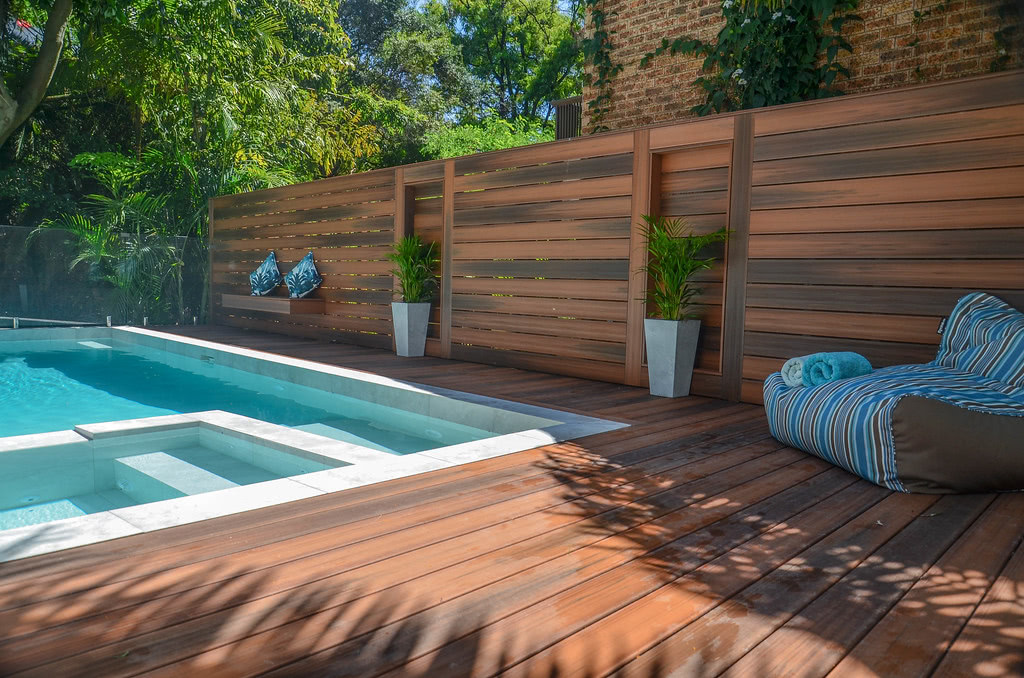 Image: Duralife Decking Australia
How much does it cost?
Composite decking prices vary between products.  The most important thing to consider here is (in bold as we repeat this so often to clients),
DO NOT COMPARE THE SHELF PRICE OF COMPOSITE DECKING TO THE SHELF PRICE OF TIMBER.
The price you are interested in is the finished product. The job is done. Roll the deck chairs out, not the price of the product. You need to consider that composite decking installation is often half that of natural timber, and with expensive labour costs in Australia, this can be a huge saving. On top of that, once composite decking has been laid. There is no need to apply any additional coats of decking oil. It's ready to use. When these costs are considered against laying natural timber decking, the overall price becomes very comparative. The advantage to composite decking is that you walk away with a 10-25 year product warranty, whereas with natural timber, you will have ongoing maintenance.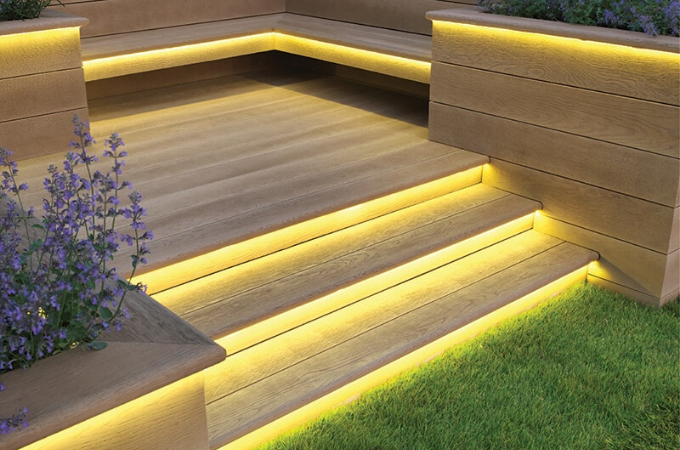 Image: Millboard Composite Decking
How do I choose?
The best way to get the right product and type of composite decking is to talk to our team or book a free site inspection!
Our team are experts on composite decking and can assess the needs for your project, providing you with a selection of the best options to choose between.
Are you ready to talk and discover the best product for your next composite timber deck?

Outdoor Entertaining

We all love it! It's where food is shared, laughter is harvested and lasting memories are created.